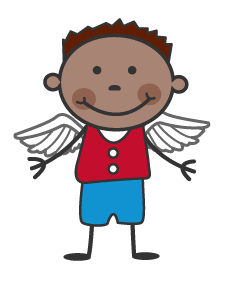 All meals and snacks are freshly prepared on the premises each day. We regularly review our five weekly menus with our cooks to ensure children receive a nutritionally balanced, diverse range of meals. Meals are adapted to meet individual dietary and allergy requirements.
We provide breakfast, lunch and tea for our children daily. Healthy mid-morning and afternoon snacks are offered to all children, along with a drink of milk or water.
At Little Cherubs we believe that meal times should be viewed as happy, social occasions for both children and staff. The staff team act as good role models by eating with our children, encouraging good table manners and conversation. Staff use meal and snack times to help children develop independence through making choices, serving food, drinks and feeding themselves.
Whilst we focus on healthy eating, we do not discourage parents from bringing in celebration cakes, as recognising and celebrating a child's birthday builds self-esteem and confidence.
We aim to promote positive attitudes towards healthy eating through play opportunities, planned activities and games.
Free Milk Entitlement
As a full day nursery we are able to claim free cows milk for every child, 189 ml (1/3 pint) of milk for each day they attend.
Baby Meals
Babies in our care use high-chairs and the more stable sitters use small chairs and tables.
When our staff are feeding babies they sit at their level and interact with them using facial expressions and verbal encouragement.
Babies meals are prepared to suit their individual stage of development either puree, lumpy, mash or normal.
Babies are encouraged to explore finger food at meal and snack times when they are able to take solids.
Menus
Little Cherubs Example Menu 1
Little Cherubs Example Menu 2